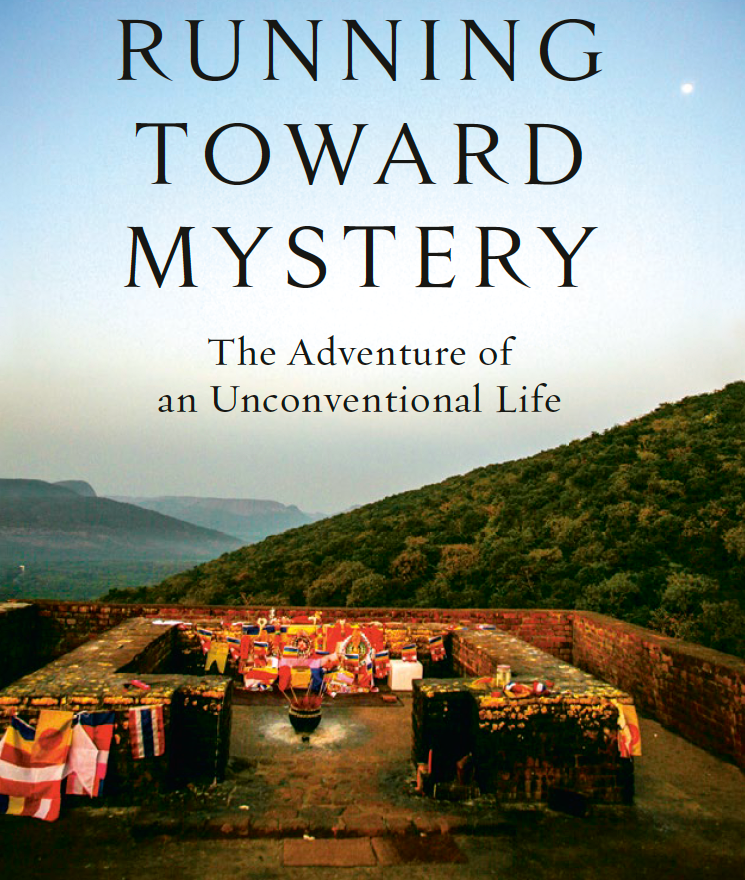 "Running Towards Mystery" is not merely a book, but an experience, a biography, a formula for living, and a manifesto for a new kind of exploration of life. Tenzin Priyadarshi writes with the extraordinary conviction and grace that can only come from fulfillment. This book produces a kind of joy -- and a nudge towards curiosity -- that only few books can provide. It is, at the same time, a pathway and a journey. I could not put it down."
 --Siddhartha Mukherjee, Pulitzer Prize Winning Author of The Emperor of All Maladies
"Venerable Tenzin's story is utterly amazing, told with honesty and elegance. It is very inspiring for anyone seeking the truth of life, or even trying to find themselves. Once I started this journey with him—running away from home as a 10-year old to follow his vision—I couldn't put this book down. I wholeheartedly recommend this touching memoir to everyone."
—Robert A. F. Thurman, Jey Tsong Khapa Professor Emeritus, Columbia University
"This is a remarkable story of an extraordinary person - a very unusual journey of faith and commitment - which seems at the same time rooted in the most ancient context and connected to our most modern preoccupations. It gives a powerful insight into contemporary spirituality and living Buddhist culture. "
—Rory Stewart, New York Times bestselling author of The Places in Between and Former Member of UK Parliament
"Enthralling from beginning to end, Running Toward Mystery encourages us all to connect with our deeper and higher self. Venerable Tenzin is a spiritual teacher much needed in our complex world hungry for meaning. And his journey, seamlessly traversing multiple worlds, is awe-inspiring."
—Arianna Huffington, Founder & CEO, Thrive Global
"In a modern world that is increasingly 'Disenchanted' Tenzin Priyadarshi's 'Running Towards Mystery' provides a necessary and captivating narrative of spiritual courage and truth seeking far beyond the veil of our contemporary delusions."
—Sting
"An extraordinary monk, Tenzin Priyadarshi is the Thomas Merton of our time. His message is universal and comes as a welcome invitation, in these changing times, to explore the most advanced states of human consciousness."
—Donald Morrison, Chair of Thomas Merton Centre, Former COO of Research in Motion (Blackberry)
"Tenzin's amazing life story is not simply a stunningly compelling journey of meaning, discovery, and spiritual re-awakening.  It is a story of life.  Everyone – not just people interested in spiritual journeys but all of the rest of us! – should read this book.  Mystery, curiosity, contemplation – these are critical to life and Tenzin's book will help to bring them into your life."
—Reid Hoffman, co-founder Linkedin
"Running Toward Mystery inspires and uplifts through profound anecdotes and lessons. In this coming-of-age story, Tenzin shares his brave journey towards fulfilling his destiny. His relentless spirit and honest nature can be a model for anyone seeking peace and purpose in their lives."
—Mellody Hobson, Co-CEO, Ariel Investments and Chair, The Economic Club of Chicago
"This is a remarkable story of a remarkable quest, filled with insights on leading a life of compassion, discipline, and integrity."
—Adam Grant, New York Times bestselling author of GIVE AND TAKE and ORIGINALS
"Venerable Tenzin shows that the world does not fall apart in the face of paradox and mystery. By fearlessly embracing that ambiguity, we are invited into full conscious living, awake and loving, for the benefit of all."
—James Orbinski, Former President,  Médecins Sans Frontières